The First National Banking Law Conclave Organized by Maharashtra National Law University Mumbai January 27 & 28, 2022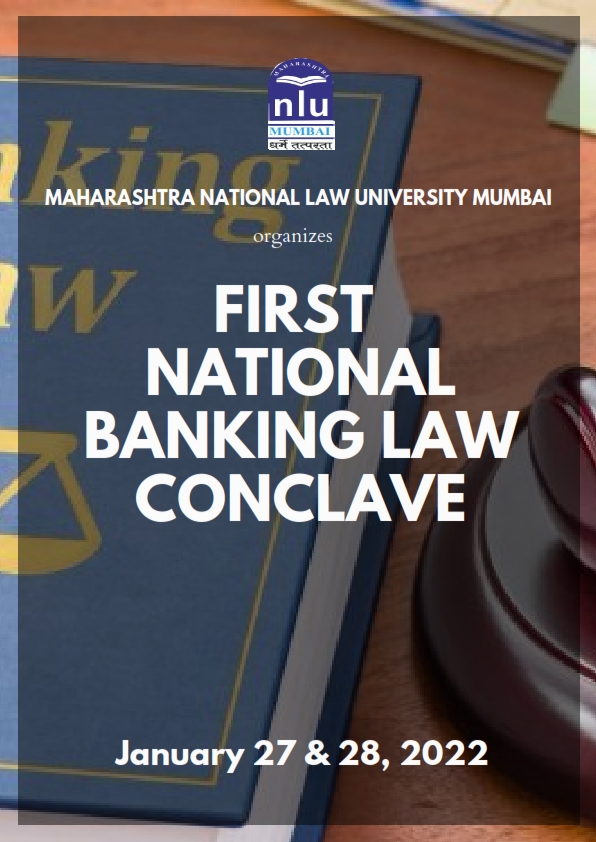 About the Conclave
The financial performance of the banking sector has been showing a declining trend owing to the rise in Non-Performing Assets. NPAs affect liquidity and profitability, in addition to posing threat to the quality of assets and survival of banks. With the rapid growth of technology, digital services became an indispensable part of banking operations as these institutions needed to keep up with the changes and introduce innovations that made services convenient. However, due to this technological growth, nearly all financial institutions have experienced a cyberattack in one form or another, and the number of attacks is only increasing. Also, the Commercial banks in India are facing stiff challenges from non-banking financial intermediaries such as mutual funds, housing finance corporations, leasing and investment companies, and many more. To overcome these issues and challenges need was felt to revisit the banking legal framework and give suggestions for a better banking system.
The idea of the First National Banking Law Conclave is to act as a platform for scholarly insights of persons of eminence. It is the event that acts as an interface for dialogue among people across the spectrum of banking Laws. The key objectives of the Conclave are to stimulate research and debate on contemporary issues and develop a better understanding of the legal framework relating to banking Sector.
Program Schedule
Date of abstract submission : 31 December 2021
Date of acceptance : 5 January 2021
Full Paper submission : 15 January 2022
Last date of registration : 31 December 2021
Program Director & Chair
Prof. (Dr.) Dilip Ukey
Vice-Chancellor, Maharashtra National Law University Mumbai
Prof. (Dr.) Anil Variath
Registrar (I/c), Maharashtra National Law University Mumbai
Registration:
It expects wide participation from Senior Legal Professionals, Policymakers for banks, Senior Banking Professionals, Bank Law Officers, Officers of General Banking, Researchers and Law Students.
The abstract and full paper can be submitted through email at conferencesubmissions@mnlumumbai.edu.in
About the Conclave Broucher
Click here
Registration form:
Click here
Last Date of Registration: 31 December 2021
Program Administrators:
Mr. Amana Khare ( (Convenor) –:
amana.khare@mnlumumbai.edu.in
Mr. Abhijit More (Convenor) –:
abhijit.more@mnlumumbai.edu.in
Ms. Gunjan Deshpande (Coordinator) -:
gunjan.d@mnlumumbai.edu.in
Ms. Atithi Abhay (Coordinator) –:
atithi.b@mnlumumbai.edu.in