PARTICIPATION AND ACHIEVEMENTS IN DEBATING AND ELOCUTION COMPETITIONS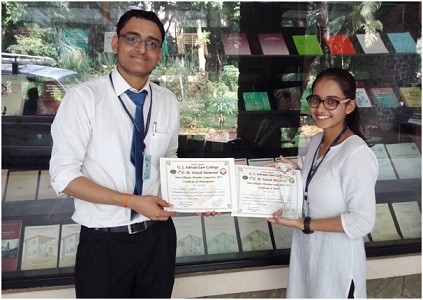 1. The team of Pragya Agarwal, Shardul Gopujkar, Reaa Mehta, Mitali Agarwal and Mrinal Dave participated in NH-65, Parliamentary Debate Competition on 6th October 2016 organised by NLU Jodhpur.

2. Team comprising of Vrindam Nagpal, Akshal Agarwal and Reaa Mehta participated in Intra Mumbai Parliamentary Debating tournament "Loquitur'16" from 10th to 12th April 2016. Team stood first in preliminary round & reached in Semi Finals. Vrindam Nagpal was ranked as best speaker of the tournament and Akshal Agarwal stood as fourth best speaker.

3. Two teams from MNLU Mumbai participated in 9th NUJS Parliamentary Debate, 2016 held from January 13th to 16th, 2016. Team 1 comprised of Mihir Deshmukh, Pragya Agarwal and Reaa Mehta. Team 2 comprised of Vrindam Nagpal, Akshal Agarwal, Suvendu Samal and Shohit Reen.

4. Team comprising of Abhishar Vidyarthi, Aditya Gupta, Mihir Deshmukh, Varun Mehta, Aditya Nandkurnar and Neelabh Kumar Bist participated in GLC Mumbai's British Parliamentary Debate Competition, 2016 held from 26th to 28th February, 2016.

5. Team of Saisha Singh and Aman Sharma participated in 5th DM Harish Memorial Inter-collegiate elocution competition wherein Saisha Singh won the Runner's Up trophy on 12th September, 2015.